Schools for Syria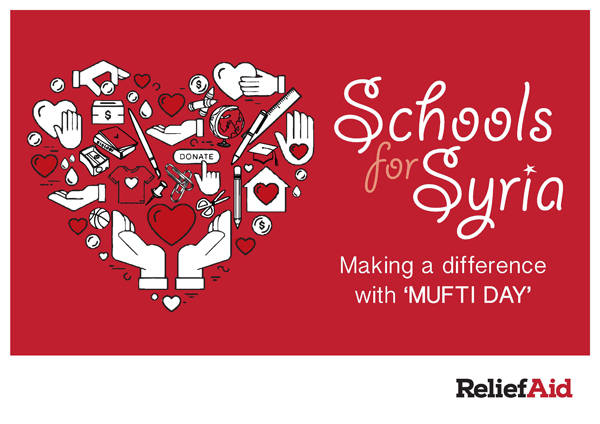 Kiwi humanitarian organisation ReliefAid needs your school's support and in so doing, you'll help us to deliver life-saving emergency aid to families trapped inside Syria.
It's simple and incredibly effective, all we ask is that you name us as your nominated 'mufti day' charity and we'll do the rest. If you're an un-uniformed school, you can still take part, we value your support and invite you to nominate us as your cause for your fundraising activities.
What is ReliefAid?
We're an independent New Zealand charity and international humanitarian organisation delivering emergency aid to families affected by armed conflict and natural disasters.
To date we have provided life-saving aid to 49,893 men, women and children in Syria, including over 31,000 girls and boys.
How does ReliefAid help?
We distribute life-saving materials such as blankets and clothing protecting families against harsh winter conditions, tarpaulins winterise homes and schools, and water purification tablets provide safe drinking water.
In addition to directly saving lives, we support education throughout schools and orphanages in Syria by distributing children's clothing.
How can your school help?
By nominating ReliefAid as your 'mufti day' cause, your school ensures that the life-saving aid so desperately needed, reaches families displaced by the brutal conflict in Syria.
How does your school benefit?
We feel strongly that student participation can make a difference to those less fortunate than ourselves. Our Schools for Syria initiative will raise student awareness of global issues such as the ongoing crisis in Syria, and will provide them an opportunity to contribute towards creating change within the global community.
Want to know more?
Simply email Sasha our Youth Development Coordinator at: communications@reliefaid.org.nz and tell us you want to nominate ReliefAid as your mufti day cause and we will send you a Schools for Syria information pack. We're also on hand to answer any additional questions you may have.
Like you, we know that New Zealand schools and their students can make a difference to the world around them. Help us to support Syrian families in crisis.
Thank you.