About Us
ReliefAid is an international humanitarian organisation with a vision of saving lives and alleviating suffering of people affected by armed conflict and natural disasters through independent and impartial humanitarian action.
Our work includes:
accessing conflict affected countries, such as Syria, where few aid agencies are able or willing to operate
providing life-saving relief, such as food and shelter items (tents, blankets, water purification and storage equipment), to families in war zones and those affected by natural disasters who otherwise wouldn't receive assistance
working directly on the ground, in the places relief is most needed and least accessible
speaking out on behalf of the men, women and children whose voices are often silenced by conflict or forgotten through inaccessibility
ReliefAid's actions are driven by the principle of independence and impartiality. Our life saving humanitarian action is provided on the basis of need, irrespective of religious or political beliefs, race or gender.
ReliefAid relies soley on private donations. We do not receive any funding from governmental sources and are a registered charity with the New Zealand Charities Commission.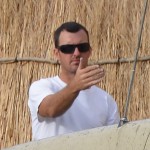 Founder, Mike Seawright
Following a decade of experience in conflict affected countries such as South Sudan, Pakistan, Afghanistan, Iraq and Syria, and frustrated by the inability of many aid organisations to get staff and resources into conflict zones, New Zealander Mike Seawright founded ReliefAid in late 2014.
Read and hear Mike in the media.
Why ReliefAid is effective
ReliefAid has the experience and networks to provide living saving humanitarian assistance where it is most needed, in places where other aid organisations cannot or will not operate.
ReliefAid has proven experience in Syria – we have successfully distributed food, non food and medical support within Syria over the past 24 months.
We have proven experience in warzones – we have successfully done the same in South Sudan, Pakistan, Afghanistan and Iraq. In early 2015 Mike Seawright managed the distribution of winter relief items to over 26,000 people in Aleppo City, arguably the most war damaged city since World War II.
We have existing networks in Syria – we have the ability to immediately mobilise on-ground networks to reach those inaccessible to other aid organisations.
Direct action – we are directly involved in the implementation of our humanitarian assistance overseeing all operations.
Why war zones?
Despite fewer wars being experienced globally an intensification of violence has lead to a larger number of people being displaced from their homes.
In 2013 it is estimated that as many as 50 million people were displaced due to conflict with civilian populations overwhelmingly paying the price.
Those displaced are often isolated, vulnerable and without the services required for basic life support.
Support from the international community has in some cases provided relief but needs greatly outstrip the support being provided.
Our current appeal 'Communities Under Fire' focuses on the distribution of food and shelter items to families brutally affected by the civil war inside Syria.