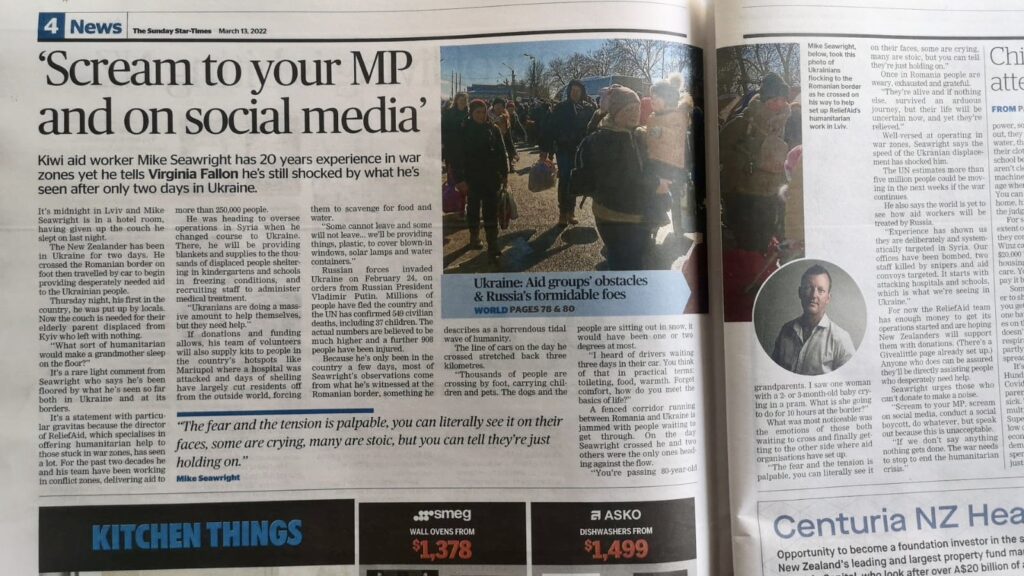 It's midnight in Lviv and Mike Seawright is in a hotel room, having given up the couch he slept on last night.
The New Zealander has been in Ukraine for two days, having crossed the Romanian border on foot then travelled by car to begin providing desperately needed aid to the Ukrainian people.
Thursday night, his first in the country, he was put up by locals. Now the couch is needed for their elderly parent displaced from Kyiv who left with nothing.
"What sort of humanitarian would make a grandmother sleep on the floor?"
It's a rare light comment from Seawright who says he's been floored by what he's seen so far both in Ukraine and at its borders.
It's a statement with particular gravitas because the director of ReliefAid​, which specialises in offering humanitarian help to those stuck in war zones, has seen a lot. For the past two decades he and his team have been working in conflict zones, delivering aid to more than 250,000 people.
He was heading to oversee operations in Syria when he changed course to Ukraine. There, he will be providing blankets and supplies to the thousands of displaced people sheltering in kindergartens and schools in freezing conditions, and recruiting staff to administer medical treatment.
"Ukrainians are doing a massive amount to help themselves, but they need help."
If donations and funding allows, his team of volunteers will also supply kits to people in the country's hotspots like Mariupol where a hospital was attacked and days of shelling have largely cut residents off from the outside world, forcing them to scavenge for food and water.
"Some cannot leave and some will not leave…we'll be providing things, plastic, to cover blown-in windows, solar lamps and water containers."
Read the rest of the article at Stuff.
If you would like to support our work please visit us at Donate Now.